The OLL Trophy
The OLL Trophy is an annual prize awarded as recognition of work promoting university sports. The trophy, which is passed from winner to winner, was donated by the Finnish Student Health Service FSHS.
The OLL Trophy is awarded to a member organisation of the Finnish Student Sports Federation which has carried out excellent work in sports. OLL's Board decides who will receive the Trophy. The winner is announced every year at OLL's General Assembly.
The OLL Trophy has been awarded to member organisations since the 1970s.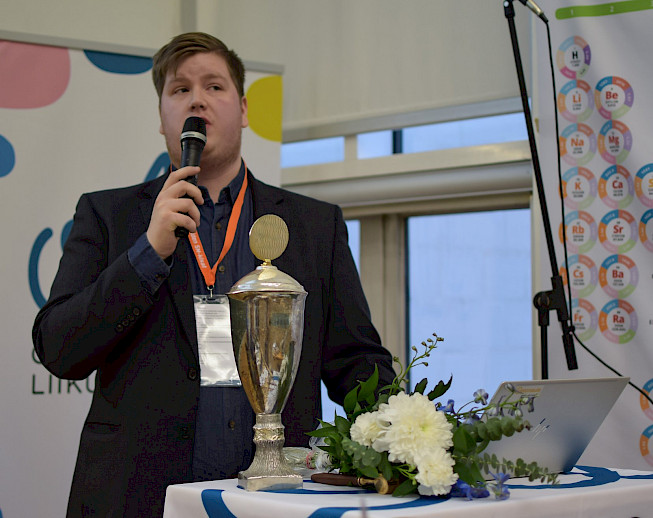 OLL Trophy winners since 2000:
2022: Student Union of Metropolia University of Applied Sciences (METKA)
2021: The Student Union of the University of Vaasa (VYY)
2020: Organisers of the SELL Student Games in Lahti
2019: Student Union of Satakunta University of Applied Sciences (SAMMAKKO)
2018: Student Union of the University of Vaasa (VYY)
2017: Student sports services in Turku CampusSport
2016: Student Union of Seinäjoki University of Applied Sciences (SAMO)
2015: LAMK Sports (Lahti University of Applied Sciences)
2014: The Sykettä project (Student Union of the University of Eastern Finland ISYY and Student Union of Savonia University of Applied Sciences SAVOTTA)
2013: Liikunnan Riemu, the student sports club at the Faculty of Sport and Health Sciences at the University of Jyväskylä
2012: Student Union of Kemi-Tornio University of Applied Sciences (KETOAKKU)
2011: Student Union of Lappeenranta University of Technology (LTKY)
2010: Student Union of Jyväskylä University of Applied Sciences (JAMKO)
2009: Student sports services in Oulu (Oulu Region University of Applied Sciences and the University of Oulu)
2008: The engineering students' sports club (Polyteknikkojen urheiluseura PUS) and the Student Union of the Helsinki University of Technology (TKY)
2007: Student Union of Savonia University of Applied Sciences (SAVOTTA)
2006: Student Union of the University of Tampere (Tamy)
2005: Student Union of the University of Lapland (LYY)
2004: TUrVoKe and the Student Union of Tampere University of Technology (TTYY)
2003: Student Union of the Helsinki School of Economics (KY)
2002: Student Union of the Helsinki University of Technology (TKY)
2001: Student Union of Helsinki University of Applied Sciences (HAMOK)
2000: Student Union of the University of Lapland (LYY)
Page last updated 25.8.2023