Flame of The Year - Otto Rantala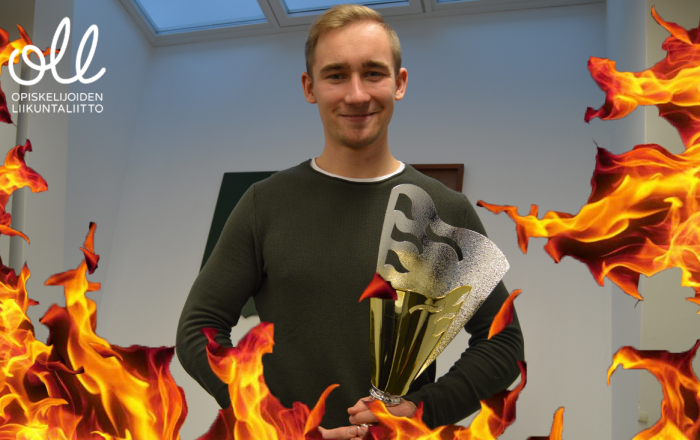 When selecting the Flame of the Year, the jury considered it important that the
winner has managed to get a large number of students moving. Otto Rantala did an
excellent job in this regard, offering students the opportunity to try out a wide range
of different sports.

The Flame of the Year coordinated the Sports Appro event held in Jyväskylä in 2018.
Thanks to him, the event was expanded to last two days, and a total of 24 different
actors, in addition to the main sponsor, were involved in the Appro.

During the event project, Rantala showed a tireless interest in the development of the
event and performed his duties in a consistent manner. To top it all off, the Flame of
the Year was also behind the idea of breaking the unofficial Finnish record for the
number of sports tryouts. This record number also included the mini-tryouts, which
took place during the last hour of the event and alone resulted in a staggering number
of 371 tryouts. The total number of sports tried out during the two days was
approximately 1,200.

All in all, every stage of the event went smoothly, and all the feedback received from
the event was positive. From the very beginning, it was a matter of honour for Otto to
create a high-quality event, and thanks to his enthusiasm, 300 students from Jyväskylä
got to try out what kind of sports the city had to offer. The bar for the 2019 Sports
Appro is extremely high.

The Finnish Student Sports Federation is happy to grant Otto Rantala the title of Flame of the Year 2018. Congratulations, Otto!
Page last updated 18.9.2020