Flame of The Year 2021 - Pekko Pirhonen and Markus Halonen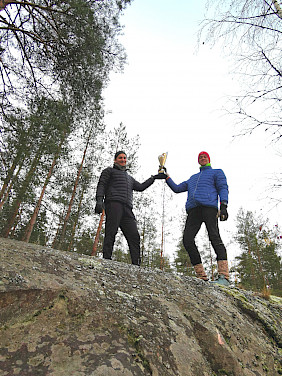 Vuoden Liekehtijäksi 2021 on valittu LUT-yliopiston ja LAB-ammattikorkeakoulun yhteisestä hyvinvointi- ja liikuntapalvelu Moveosta vastaavat Pekko Pirhonen ja Markus Halonen.
Pekko ja Markus tekevät työtehtäviensä lisäksi paljon vapaaehtoistyötä opiskelijoiden hyväksi. Korona-aikana he ovat lanseeranneet opiskelijoillemme ilmaiset etäjumpat sekä taukoliikuntasessiot. Markus teki töitä ulkokuntosalin perustamisen puolesta, kun alkusyksystä kampuksen kuntosalia ei saatu auki. Heidän toimestaan on käynnissä myös Tikissä Työelämään -hanke, joka tähtää muun muassa hyvinvointimentoroinnin opinnollistamiseen. Hanke luo myös raamit hyvinvointimentorointi kurssille, jonka voi tulevaisuudessa jalkauttaa kansalliselle tasolle.
Toiminnallaan Pekko ja Markus avaavat opiskelijoille ovia myös työelämän puolelle ja tarjoavat monipuolisia projekteja, joissa sovelletaan koulussa opittuja asioita. Tällaisia uusia aluevaltauksia, joihin opiskelijat otetaan mukaan ovat olleet kampuksilla ja etänä toteutettava hyvinvointivalmennus sekä yhteistyössä YTHS:n kanssa vedettävä kyykkykoulu. Opiskelijayhteistyöstä mainittakoon myös aktiivinen yhteistyö opiskelijajärjestöjen kanssa. Pekko istuu mukana esimerkiksi opiskelijoiden liikuntavastaavista koostuvassa liikuntatoimikunnassa ja on yksi mahdollistaja Lappeenrannassa järjestettäville kiltaolympialaisille.
Opiskelijoiden keskuudessa Pekko ja Markus ovat helposti lähestyttäviä toimijoita, joille voi matalalla kynnyksellä tulla esittämään toiveita kampuksen liikunta- ja hyvinvointipalveluihin liittyen. Markus ja Pekko tekevät valtavasti pyyteetöntä työtä ja opiskelijoiden edunvalvontaa, jota heiltä ei työnkuvan puolesta muuten odoteta. Tätä he tekevät aina pilke silmäkulmassa ja hymy huulilla!
Page last updated 8.12.2021