Flame of The Year 2019: Kati Vastamäki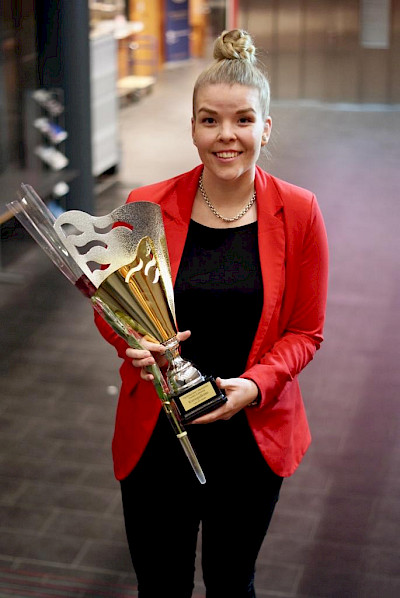 The Flame of the Year (Vuoden Liekehtijä) prize for promoting student sports was awarded to
Kati Vastamäki. Since 2015 Vastamäki, who is studying mathematics at the university of
Tampere, has been active in the Tampere higher education community's sports society
Akateeminen Mahti, where she has held various roles, such as treasurer and chair for the
football and futsal division, as well as sports tutor and treasurer for the main society.
In addition to her society work Vastamäki has also been in charge of the arrangements for
football and futsal during several Finnish Student Championships. She has also had an active
role in arranging Akateeminen Mahti's own events, such as night floorball and the winter
sports week. Through her motivation, attitude and skills Vastamäki has encouraged the entire
society to develop its activities in an ambitious way.
OLL is impressed with her positive and encouraging attitude and her tireless voluntary work in
student sports, and we are honoured and happy to award Kati Vastamäki the 2019 Flame of
the Year (Vuoden Liekehtijä) prize. Congratulations Kati!
Page last updated 18.9.2020