One hundred years of student sports will be celebrated on 13th of April 2024
The Finnish Student Sports Federation (OLL) will celebrate its one hundred years of operations in 2024. The Ministry of Education and Culture has granted OLL 30,000 euros in funding to celebrate the history of organised student sports.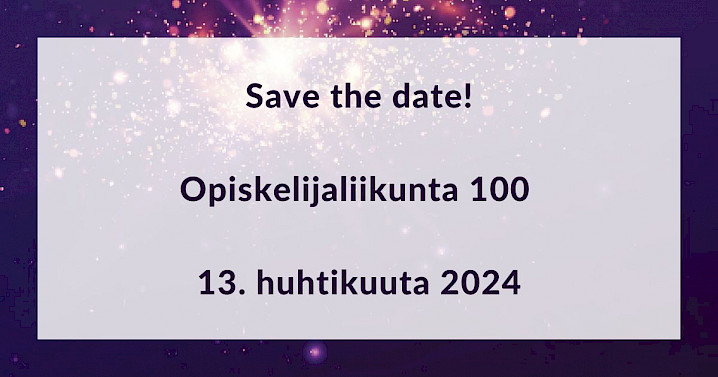 The Finnish Academic Sports Federation (Suomen Akateeminen Urheiluliitto, SAUL) was founded in 1924. The Federation's original purpose was to organise academic sports competitions for universities in Helsinki. In 1971, the Federation updated its name to the Finnish Student Sports Federation (Opiskelijoiden Liikuntaliitto, OLL), as the Federation was expanding its activities from organising competitions to influencing sports policy.
Today, the Finnish Student Sports Federation is a nationwide organisation that protects the interests of university students. OLL's membership base is formed by student unions, and the Federation's partners include, for example, sports services at higher education institutions, the Finnish Olympic Committee, the Finnish Student Health Service (FSHS) as well as the umbrella organisations of university students.
"Sports-focused student advocacy remained a permanent part of the Federation's operations, and today OLL's most important task is to promote the well-being of university students through influencing sports policy. It will be great to celebrate our important mission next year and that the Ministry of Education and Culture supports these celebrations," says OLL's Secretary General Niko Peltokangas.
Save the date: April 13, 2024!
Atte Kolehmainen, Vice President of OLL's board this year, is responsible for the plans of the Students Sports 100 jubilee year.
"The celebratory year is a great opportunity to highlight OLL's versatile activities, its appreciation towards its members and the wide network of partners. The work done for university sports during the past hundred years has been of enormous importance both for the individual and for society as a whole," says Kolehmainen, who started in his position of trust in January.
At the moment, the jubilee planning is focused on the main party itself and the history of OLL produced by the Center for Finnish Sports Culture Tahto. The past hundred years filled with student sports will officially be celebrated on April 13, 2024.
"We can't reveal the details of the celebrations yet, but let's say that both the world of sports and student life are known for their unforgettable parties, and OLL is the place where these two worlds meet most naturally," Kolehmainen summarises.
Read more about OLL's history.
Further information
Niko Peltokangas
Secretary General
niko.peltokangas@oll.fi / +358 44 780 0210
Atte Kolehmainen
2nd Vice President
atte.kolehmainen@oll.fi / +358 44 780 0215
You may also be interested in
Share this page
Page last updated 18.1.2023