Sanni Lehtinen: Can students afford to ski?
Published:
Category:
Blog
Tags:
Sanni Lehtinen, candidate for the Greens in Helsinki, blogs about the municipal elections.
Last winter, or more truthfully, during the eternal November that it seemed to be, I managed to forget the wonderfulness of the sound of snow crunching under your feet, the frost pinching one's cheeks, and the amount of light when the ground is white. Like a few million others living in Finland, this year I too was fascinated by the endless opportunities of winter days: making snow angels, going sledging and ice skating when the publicly maintained artificial ice rinks in Helsinki were open to all, free of charge. This is the best that any person with a low income and an enthusiasm for gliding on the ice could hope for.
However, one dream remained out of my reach: how in the world could a student go skiing in Helsinki?
The ski trails are free for everyone, there is no entrance fee. That's fine as such, but how to do it when the skis you used at school are short by half a metre and a new ski set in the right size would cost hundreds of euros? The Helmet library network in the Helsinki metropolitan area offers 12 pairs of skis and about twenty pairs of ski boots, with these being available at one library. This is a good start, but not enough to meet the needs of very many. Based on my Google searches, the cheapest ski set rental in the capital costs 24 euros for three hours. If you would like to go skiing, say, once a week, the price of the hobby would amount to almost a hundred euros per month. That's a large sum in a student's budget.
Exercise promotes mental health. Therefore, financially accessible physical exercise opportunities are good not only for physical health, but mental health as well. And no, I'm not arguing that severe depression can be cured on the jogging trails, but I'm talking specifically about mental health care in a situation where everything is alright. When sports venues are located around the city and their user fees and equipment rental charges remain as low as possible, the everyday life of Helsinki residents becomes more meaningful. The more affordable or free-of-charge options there are, the more accessible versatile exercise opportunities become. The joy of exercise should not be limited only to those who can afford expensive sporting equipment or club memberships.
Exercising in nature has been proven to have positive effects on mental health, and the places accessible on a daily basis have the greatest impact. The importance of green areas, shorelines and ski trails has been emphasised even further during the COVID-19 pandemic. Forest trails and nature reserves must be accessible to all. Local nature must be easily accessible on foot, by bike and by public transport – in other words, conveniently and affordably.
During the summer in Helsinki, I really enjoyed cycling in the city. You could ride the yellow rental bike conveniently to distant destinations at a low price – and next summer, you will be able to pedal anywhere within the area inside Ring Road 3, as the city bike network will expand. This made me wonder, during the extreme cold weather in early winter, what if city skis were piloted next winter? If ski sets were available for rent at recreational areas, either on a seasonal or daily basis, and the rent would be so low that students and other city residents living on a small monthly budget could afford them, it would make this form of sport more economically viable.
City skis are just one example of how the physical activity of all types of city residents can be supported. All the time, the City Council makes many decisions that have a concrete impact on the daily lives of the residents: the protection and accessibility of nearby nature, the development of bicycle and pedestrian traffic and supporting various recreational opportunities shape Helsinki around us. I believe that all decisions must be made with mental health implications in mind. In this day and age, when we get to read weekly news about the workloads experienced by young people and students, it is probably no longer unclear to anyone that supporting mental health is extremely important. Not only must problems be addressed, but a major structural shift and change of attitude are needed as well: what if, in the future, we would not just repair what is broken, but would provide better support when the problems do not yet exist?
Ensuring affordable opportunities for physical exercise and accessible local nature contributes to work that promotes mental well-being and prevents mental health problems. This work is worth investing in during the next council term.
You can contribute by voting, in the municipal elections, for a party that wants to safeguard the well-being of nature and people alike. In order for Helsinki to be the best student city in the world in the future, you should choose a student-friendly candidate. You have the power to do that.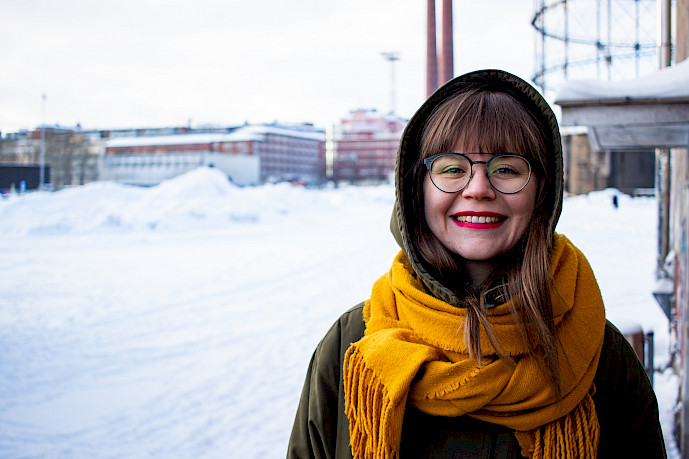 Sanni Lehtinen
The author is a candidate for the Greens in the municipal elections in Helsinki. She is a long-term student influencer who makes the world a better place by promoting mental health. Sanni's aim is to make Helsinki the best student city in the world, where mental well-being is the main thing.
You may also be interested in
Share this page
Page last updated 20.5.2021