Sweden won the Finland-Sweden well-being match, says Firstbeat Lifestyle Assessment
Published:
Category:
News
Tags:
This spring, OLL and our Swedish counterpart SAIF (Sverige's Akademiska Idrottsförbund) jointly surveyed the overall well-being of students using Firstbeat Lifestyle Assessment.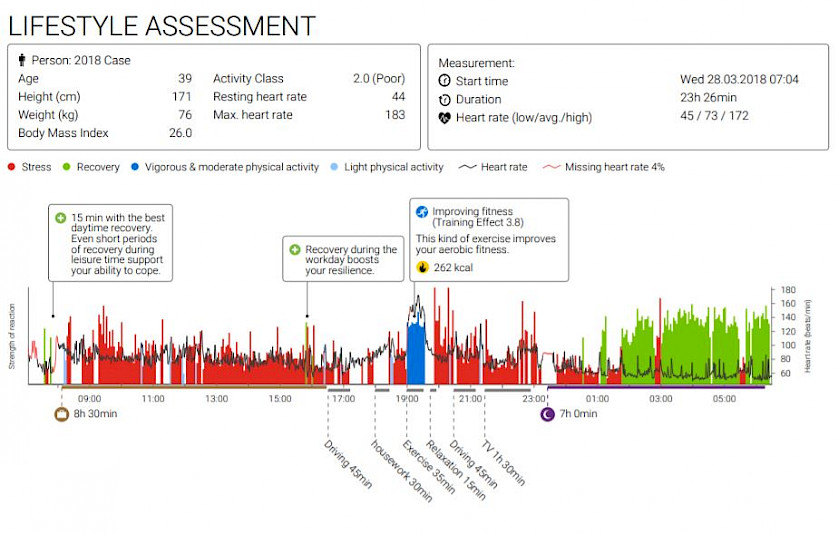 The Lifestyle Assessment analyses recovery, stress and physical activity by measuring heart rate and made it possible to get accurate, individual and comprehensive information on the well-being of students. This more in-depth survey of well-being is a welcome addition to OLL's expertise, which has traditionally focused on analysing exercise habits and their impact.
In June, we, together with SAIF, analysed the Lifestyle Assessments carried out for 40 students from the Satakunta University of Applied Sciences, Stockholm School of Economics and Bosön Idrottsfolkhögskola. The results reveal that, as in the Finland–Sweden Athletics Internationals in recent years, the Swedes also climbed on to the winner's podium in well-being.
There were around a dozen variables related to recovery, stress and physical activity. Only one of these variables, the amount of time spent sleeping, was higher and more favourable for Finns than for Swedes. However, the Swedes could make better use of their sleeping time because recovery during sleep was better for the Swedes than for the Finns both quantitatively and qualitatively.
The remaining variables, such as the amount of stress and physical exercise and the amount and quality of recovery during studies and leisure time, were more favourable in the measurement results of the western neighbours than of the Finns.
The students themselves highlighted their fascination with and the novelty value of the measurement data on recovery. Here are a couple of examples on how the students commented on their own analyses:
"I was surprised that, according to the Lifestyle Assessment, I was stressed last night, when I felt the most relaxed." (a Swedish student)
"I was surprised that my sleep was so restorative, even though I felt that I did not sleep well." (a Finnish student)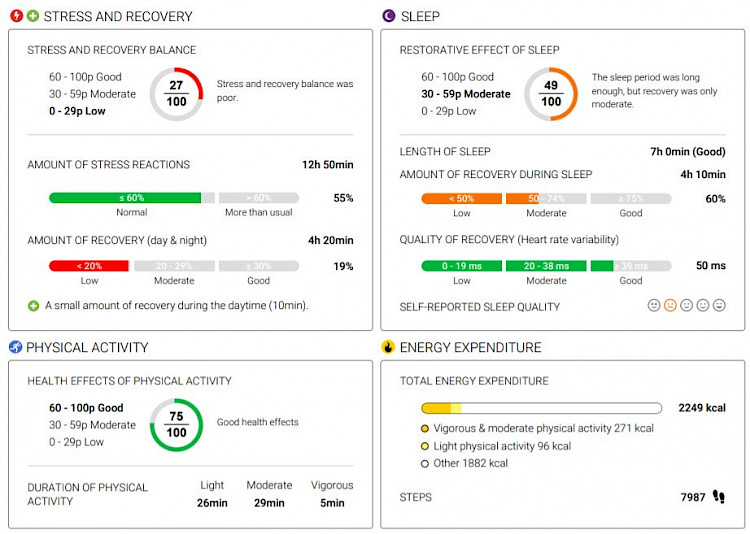 Firstbeat Lifestyle Assessment and other individual concepts examining overall well-being offer higher education institutions new information and better tools to promote the well-being of students.
Although this survey does not represent the overall situation in Finland and Sweden, it has given us at OLL an incentive to study the well-being of students from a holistic perspective and to find out if, in reality, something more or better is being done for the well-being of students in our western neighbour.
So, we Finns really have to improve our well-being results, and once we have done this, it is time for a revenge match!
The project was carried out with financial support from FISU, the international organisation for student sports and sports organisations and in cooperation with the following organisations:
Sveriges Akademiska Idrottsförbund
Firstbeat
Samk
CampusMoWe
FISU
More information:
Final report of the project in English (docx file)
Anni Liina Ikonen
Special Advisor for University Sport
anniliina.ikonen@oll.fi
tel. +358 44,780 0219
You may also be interested in
Learning German on your feet – presenting desk-free language teaching

Published:

Suvi Kotkavuori is a University instrucktor of French and president of University of Helsinki's Lecturer's Association. In this blog she tells journey to the more moving education by her colleague Tia Patenge. In the blog Suvi has interviewed Tia about her experiences of "deskless teaching" and what this has given for her as a teacher. The sitats of this blogs are Tia Patenge's.

Read more about article: Learning German on your feet – presenting desk-free language teaching

The playing human has the courage to move in the higher education

Published:

In this blog post, I discuss whether universities of applied sciences can have imaginative leaders and "masters of madness", as in Little's office. Could a creative idea that seems a little crazy today be a driving force for the development of tomorrow? Are there any aspects of higher education sports where students do not need to be full of athletic power in order to exercise on their own terms, take part in and enjoy physical activity one step – or, say, one wrist rotation at a time?

Read more about article: The playing human has the courage to move in the higher education

Liikkuva korkeakoulu - Avain passiivisuuden lukkoon?

Published:

Ninni Kuparinen on Opiskelijakunta KOE hallituksen jäsen ja Lappeenrannan kampuspuheenjohtaja. Liikunnallisesti LAB-ammattikorkeakoulun Lappeenrannan kampuksella moni asia on hyvin. Mutta kehittämisen kohteita löytyy aina. Ninni kertoo oman näkökulmansa, miksi Liikkuva Korkeakoulu -toimintaa tarvitaan.

Read more about article: Liikkuva korkeakoulu - Avain passiivisuuden lukkoon?
Share this page
Page last updated 11.9.2020